It can be challenging as a parent to stay on top of all the varied facets of your child's life. There is a lot to track, from their education to their extracurricular activities. But you can ensure that everything is under control with the aid of these 11 top parenting apps for Android!
Finding the time to complete everything you need to do while being a parent is a full-time job. Your smartphone can be useful in this situation. Numerous parenting apps are available to assist you with everything from monitoring your child's development to locating child care.
I'll look at 11 of the top parenting apps for Android in this article. You can track your baby's feedings with these apps and discover the best activities for your kid. So continue reading if you need parenting advice!
Top 11 Parenting Apps for Android
Parenting apps for Android have different uses, importance, and audiences. Some apps are made for both parents, and some are more suitable for moms. Some apps help us track child's health, while others let us control their screen time. Let's dive into the top parenting apps for Android, which is compiled for you.
01. The Happy Child Parenting App
The Happy Child is among the best parenting apps that offer multiple guides and tips that will help you in your child's upbringing. The app offers you access to avant-garde studies and findings in Neuroscience, Pediatrics, and Psychology. These countless articles have been curated into one easy-to-use app. The app has short, easy-to-understand daily lessons that will help you handle parental knowledge.
KEY FEATURES
Customized, science-based app
Alerts and insights
Easy to implement knowledge
Short daily lessons
Years of scientifically-backed research and findings
| | | |
| --- | --- | --- |
| 1. | Download Size | 17 MB |
| 2. | Requires | Android 5.1 and up |
| 3. | In-app purchases | Free |
| 4. | Downloads | 500K+ |
| 5. | Google Play Rating | 4.9★ |
Download from Google Play
02. Nara Baby Tracker
If you're a parent, you know how difficult it can be to keep track of your child's activities, especially if you have more than one. That's where Nara Baby Tracker comes in. It is one of the great parenting apps for Android to track your child's activities and keep them safe. It lets you see where they are, what they're doing, and who they're with. You can also set up alerts, so you're notified if something happens that you need to know about.
KEY FEATURES
Add notes to any item
Breastfeeding tracker
Add diaper changes, bottle feedings, and more
Supports multiple babies
Works across multiple devices
| | | |
| --- | --- | --- |
| 1. | Download Size | 27 MB |
| 2. | Requires | Android 5.0 and up |
| 3. | In-app purchases | Free |
| 4. | Downloads | 10K+ |
| 5. | Google Play Rating | 4.9★ |
Download from Google Play
03. Medela Family Baby Tracker
Medela Family is one of the top parenting apps for Android that can help you to keep track of your child's development. The app includes a developmental milestones tracker, which can help you to monitor your child's progress. It has advanced breastfeeding tracker tools. It also offers a pregnancy tracker apart from the child tracker and child tracker tools. If you are looking for an app to help you with parenting, Medela Family is definitely worth checking out!
KEY FEATURES
Expert tips and online articles
Improved baby tracker tools
Interactive checklists
Breastfeeding tracker
See the size of your baby during pregnancy
| | | |
| --- | --- | --- |
| 1. | Download Size | 111 MB |
| 2. | Requires | Android 9.0 and up |
| 3. | In-app purchases | Not Listed |
| 4. | Downloads | 500K+ |
| 5. | Google Play Rating | 3.5★ |
Download from Google Play
04. AirDroid Parental Control
AirDroid Parental Control is a great option on the list of best parenting apps for Android that can help you to manage your child's screen time. The app allows you to set up a daily limit for your child's screen time and set restrictions for specific apps and websites. You can also use the app to monitor your child's activity and see how much time they spend on their devices.
KEY FEATURES
Screen Mirroring
Screen Time Control
Apps Details and Activities
Sync App Notifications
View your kid's device and its daily activities
| | | |
| --- | --- | --- |
| 1. | Download Size | 45 MB |
| 2. | Requires | Android 7.0 and up |
| 3. | In-app purchases | $9.99 – $59.99 per item |
| 4. | Downloads | 100K+ |
| 5. | Google Play Rating | 3.5★ |
Download from Google Play
05. Bark – Monitor and Manage
If you're looking for great parenting apps for Android, look no further than Bark. This app contains features to help you manage your child's life, including a calendar, to-do list, and even a reward system. Bark makes it easy to keep track of your child's screen time and helps you manage apps and filters on their devices. You can also use the app to monitor your child's development and track their milestones. The best part about Bark is that it's free to download and easy to use with affordable in-app purchase options.
KEY FEATURES
Web filtering
Screen Time Management
Content Monitoring
Text Message Monitoring
App Blocking and Age Restriction
| | | |
| --- | --- | --- |
| 1. | Download Size | 30 MB |
| 2. | Requires | Android 5.0 and up |
| 3. | In-app purchases | Not Listed |
| 4. | Downloads | 100K+ |
| 5. | Google Play Rating | 4.0★ |
Download from Google Play
06. MMGuardian Parental Control
MMGuardian makes it easy to set limits on your child's screen time. You can schedule when they can use their devices and for how long. You can also block certain apps and websites that you don't want them accessing. The app also lets you see what your child is doing online. You can see which websites they visit and which apps they use the most. This helps you keep an eye on their online activity and ensure they're not accessing anything inappropriate. There are many other features which make this app one of the best parental apps for Android.
KEY FEATURES
Social Media Chat Monitoring
Alerts when text messages or web searches are indicative of sexting
Locate your child's phone on a map
SMS block and Call block
Lock or Unlock the child's phone with a simple button press
| | | |
| --- | --- | --- |
| 1. | Download Size | 15 MB |
| 2. | Requires | Android 6.0 and up |
| 3. | In-app purchases | $1.99 – $149.99 per item |
| 4. | Downloads | 1M+ |
| 5. | Google Play Rating | 4.1★ |
Download from Google Play
Also, read. Top 11 platforms like discord For Effective Teamwork 
07. Tinybeans Family Photo Album
Tinybeans is one of the coolest parenting apps for Android. It offers parents recommendations and connections everyone needs to raise kids happy humans. It helps you to record your child's milestones with photos and personalized content. Mothers can record each and every moment of their pregnancy. The memory books option allows a user to create photo albums for a kid and log newborn growth.
KEY FEATURES
Baby Journal
Photo Editor
Baby Photo Book
Stay connected with family
Pregnancy Tracker
| | | |
| --- | --- | --- |
| 1. | Download Size | 63 MB |
| 2. | Requires | Android 8.0 and up |
| 3. | In-app purchases | $4.99 – $49.90 per item |
| 4. | Downloads | 500K+ |
| 5. | Google Play Rating | 2.2★ |
Download from Google Play
Also, read Fitbit Sense 2 Vs Versa 4: Latest Features, Price, Color & More
08. Norton Family Parental Control
Norton Family Parental Control is among the great parenting apps for Android that can help you to manage your child's screen time. The app allows you to set up a daily limit for your child's screen time, monitor the sites and content your child views, and set restrictions for specific apps and websites. You can also use the app to stay notified about your child's physical location. That is not all about the Norton Family. It offers video supervision, web supervision, and much more.
KEY FEATURES
Stay informed about your child's location automatically
Manage content access to relevant categories
Block inappropriate websites
Instant Lock
Set limits on your child's internet access
| | | |
| --- | --- | --- |
| 1. | Download Size | 19 MB |
| 2. | Requires | Android 8.0 and up |
| 3. | In-app purchases | Not Listed |
| 4. | Downloads | 1M+ |
| 5. | Google Play Rating | 3.4★ |
Download from Google Play
Also, read Corsair's Xeneon Flex Bendable OLED Monitor Launch | Latest Features & Price
09. School Parent App
Parent App is one of the amazing parenting apps for Android. The app offers a variety of features that can help you with everything from tracking your child's daily activities to communicating with their school. You can get details of your child's academics, activities, and attendance with one tap. You can view paid and unpaid school dues as well. The app lets you know the whereabouts of the school bus precisely.
KEY FEATURES
Access photos and videos of all functions of the school
Schedule activities from the school's daily calendar
Real-time tracking of school bus
Information on Academics, Activities, and Attendance
Pay school dues directly from the app.
| | | |
| --- | --- | --- |
| 1. | Download Size | 17 MB |
| 2. | Requires | Android 6.0 and up |
| 3. | In-app purchases | Not Listed |
| 4. | Downloads | 1M+ |
| 5. | Google Play Rating | 3.8★ |
Download from Google Play
Also, read Top 7 video collage Apps (updated 2022)
10. Baby Tracker – Feeding, Sleep
Baby Tracker is a great app for a mom who is looking for parenting apps for Android. Though Baby Tracker can be used by any of the parents, it is more fit for moms. This app is packed with features to help you manage your child's life, including a calendar, a to-do list, and more. Baby Tracker makes it easy to keep track of your child's breastfeeding schedule. You can also use the app to track your child's bottle feeds, breast pumps, solid food, diapers, sleep, baby's weight and length, medication, and more.
KEY FEATURES
Newborn feeding
Baby care tracker
Baby diaper tracker
Baby sleep and diaper tracker
Newborn baby care
Calendar and notes
| | | |
| --- | --- | --- |
| 1. | Download Size | 9 MB |
| 2. | Requires | Android 6.0 and up |
| 3. | In-app purchases | $2.99 – $30.00 per item |
| 4. | Downloads | 1M+ |
| 5. | Google Play Rating | 4.9★ |
Download from Google Play
Also, read Google Pixel 6 Camera Review | Best Android Smartphone 2022
11. Google Family Link
Google Family Link is one of the dominant parenting apps for Android devices to control children's screen time. No matter how old your children are or how young they are, the Family Link app lets you set digital ground rules remotely to help you guide them as they learn, play, and explore online. This app allows you to view their app activity. It has features like an app blocker, app rules, screen time allowance, a child's location tracker, and more that help manage your kid's online activities. It is also one of the most downloaded parental control apps on Google Play.
KEY FEATURES
View kid's app activity
Manage your child's apps, block adult content
Lock your child's device
Keep an eye on your child's screen time
Locate where your child is
Block apps your child wants to download
| | | |
| --- | --- | --- |
| 1. | Download Size | 46 MB |
| 2. | Requires | Android 5.0 and up |
| 3. | In-app purchases | Not Listed |
| 4. | Downloads | 50M+ |
| 5. | Google Play Rating | 4.3★ |
Download from Google Play
Also, read Kobo's Clara 2E Vs Kindle Paperwhite | Which One is Buget Friendly?
When you become a parent, it's the best feeling ever and parenting mobile apps make it a huge life adjustment that's both exciting and rewarding. You are not alone in caring for your infant, thankfully.
While you should support your partner, being a parent isn't a tiny responsibility in your hand. You're well aware of the importance of moving quickly. Maintaining good terms with your children while maintaining a balance between both worlds in which they are growing up and in your world. There is nothing impossible with the use of the smartphone. Why not put it to good use and construct a more comfortable life for parents?
As a parent, it is difficult for them to keep their children away from smartphones in this digital age. At the age of three, children are exposed to mobile phones for the first time. We hand over the phone to our children hoping that they will enjoy playing games on it and parents can have some peace until they are busy, but we don't know how or when they will be directed to disagreeable or harmful websites.
Teens are primarily drawn to new apps such as Snapchat, TikTok, Instagram, and Kik. It's essential to filter apps for your children, and we must occasionally limit our children's exposure to unknown or unwanted vulnerable Apps. The easiest method to remain secure and keep our children away from inappropriate stuff is using a parental control app or an App locker.
If you're like most parents, you're concerned about the impact of technology on your children. As parents, don't you think your child spends more time on phones? Are they oversharing on social media? Do they know how to discuss with someone face to face? In reality, research shows how dependent on technology children are and how this affects them. For example, this generation's technology reduces empathy, boosts bullying, and robs them of creativity. Colleges and businesses are finding that youthful people who grew up in this technologically advanced environment lack emotional abilities compared to children a decade earlier.
So, what should a parent do? As a discipline, we often create a mobile limit, set timers, screen time, phone contracts, and take away technology. Technology, but, what if the problem with social media, technology, and the Internet in our children's lives is more about how much our innovation use interferes with our parenting? What if reading Twitter and Facebook prevents our children from having essential connections with us?
Sometimes we are too busy with our lives that even our kids try to have a conversation with us, but we're too preoccupied with monitoring our phones, responding to work emails, or surfing the web. As a result, when they see the gadget in our hands, they either give up or turn to the Internet to find the answer. We miss out on crucial teaching chances when this occurs.
What is cyberbullying?
Due to excessive Internet use, children get manipulated and get trapped in various cyber crimes. Among all, this one is one of the most common ones. Ragging or Blackmailing is done on digital platforms such as tablets, smartphones, or computers called Cyberbullying. By the use of social media or websites. Out of every 10 kid, almost 1 kid try to attempt suicide after being cyberbullied.
iphone 14 vs 13: Differences, Similarities, and More
What is sexting?
When an individual or among groups forward, send or receive sexually explicit messages is called sexting. These messages could consist of videos, photographs, or text sent via digital devices.
Online predators send unwelcome sexually explicit messages or sexual solicitations to one out of every seven children.
What are the characteristics of online predators?
They are paedophiles who have a sexual attraction to children and hide behind a teen profile to appear as a friend before abusing children on the Internet.
Three out of every ten teenagers who have sex with someone online run the risk of being labelled as sexual offenders.
How to Monitor Mobile Devices of Your Kid's
In several ways, remote management apps can assist you in maintaining control. Among the most common tracking forms involve location tracking, app blocking, web content filtering, and time management.
Below, we go over all these great features in greater depth. Keep in mind that some of the product lines we showcase are only available for mobile devices, so they won't be able to track your child's actions on Macs or PCs. If you're most concerned about these systems, have a look at our overview of the best parental control tools.
The majority of remote management programs work similarly. Install a surveillance app on each gadget you would like to keep a close eye on, then control settings and limitations from a website desktop or a caregiver mobile app. Any choices you make to your devices take full effect right away. We value capabilities that enable us to control our devices flexibly.
Parenting Mobile Apps 2022
1. Artkive
You can save most of your child's scrawls on coloured paper without sacrificing closet space. Big kudos to this helpful app for digital format preserving kids' artwork. In the app, you can organize artwork by the child and even print books, which is a beautiful way to keep track of their creations over time. (Up to 40 pieces are free; after that, membership costs $3 per month.)
2. WOW Parenting
The software was intended to help parents enhance their parenting abilities and resolve their parental concerns; it is linked to several specialists who assist parents in helping them understand their child's growth. Specialists will assist you in determining your child's pressure, tv addiction, and distraction. The software also includes a live session with specialists, and they offer the most effective remedy to a child's issue.
3. LetsBab (Free)
LetsBab is each store for clothing and accessories, women's clothing and beauty (including brands like Body Shop, Forever 21, ASOS, MANGO, and Boohoo), men's clothing and lifestyle (with money back reward), and men's clothing and lifestyle (with cash back reward).
4. Baby Connect
If you're expecting your first kid or are a first-time parent, life with an infant is full of ups and downs. Parents may also need assistance organizing their to-do list and managing their wits between doctor appointments, feedings, diaper changes, and naps. This app is excellent for keeping track of your medicines, tube feeding, baby's sleep pattern, and doctor appointments. And if sometimes you forget to feed your child, then this app may help you set reminders for the next feeding, and you can also share this information with your partner, relative, or nanny who will be looking after your baby since you are gone.
Top 10 Event Apps for Android to Make Your Life Easier [Updated September 2022]
5. Find My Kids
It's impossible to overestimate the value of monitoring wherever your kids are. Anybody who has experienced the terrifying panic of the loss of a child can testify to this. As a result, there is no more critical app than one which will inform you wherever your kid is at any particular time. The most okay locating app available is Find My Kids. Locate My Kids uses actual Google Maps to help you keep track of your children and ensure their safety.
6. Qustodio
Qustodio is the world's leading provider of parental control technology for households. Qustodio supports all generations of Windows PCs, iOS, and Android smartphones and is accessible in six languages. Customers will like Qustodio's greatness and easiness, as well as its outstanding features for sophisticated security.
7. Boxed(Free, iOS and Android)
You'll be pleased to get bulk essentials (toiletries, paper products, snacks, and many more) immediately with the help of your phone if the prospect of lugging the kids to your local warehouse retailer gives you hives. It's also a good idea to stock up on school necessities that your child goes with quickly, such as batteries and notebooks. It doesn't not only saves you time, effort, money, and the hassle of navigating the large cart through the halls, but it also ensures that your order arrives in 1-2 business days so that you can use it quickly.
8. Azoomee
Your youngster enjoys using your phone by playing games — and who doesn't want such great fun.
However, this can also increase the risk of addiction and can grow monotonous. So, think about an app that updates every week with puzzles, new games, and activities? Enter Azoomee, our gold-award-winning app.
That's correct; you won't have to spend money on specific applications each time your kid gets bored with what they're doing.
And the best part is that it's kid-friendly, and you can have up to five children's profiles only with one family membership, which is less expensive if you join up for a more extended period. And, let's face it, if the children are happy, we are so glad as well!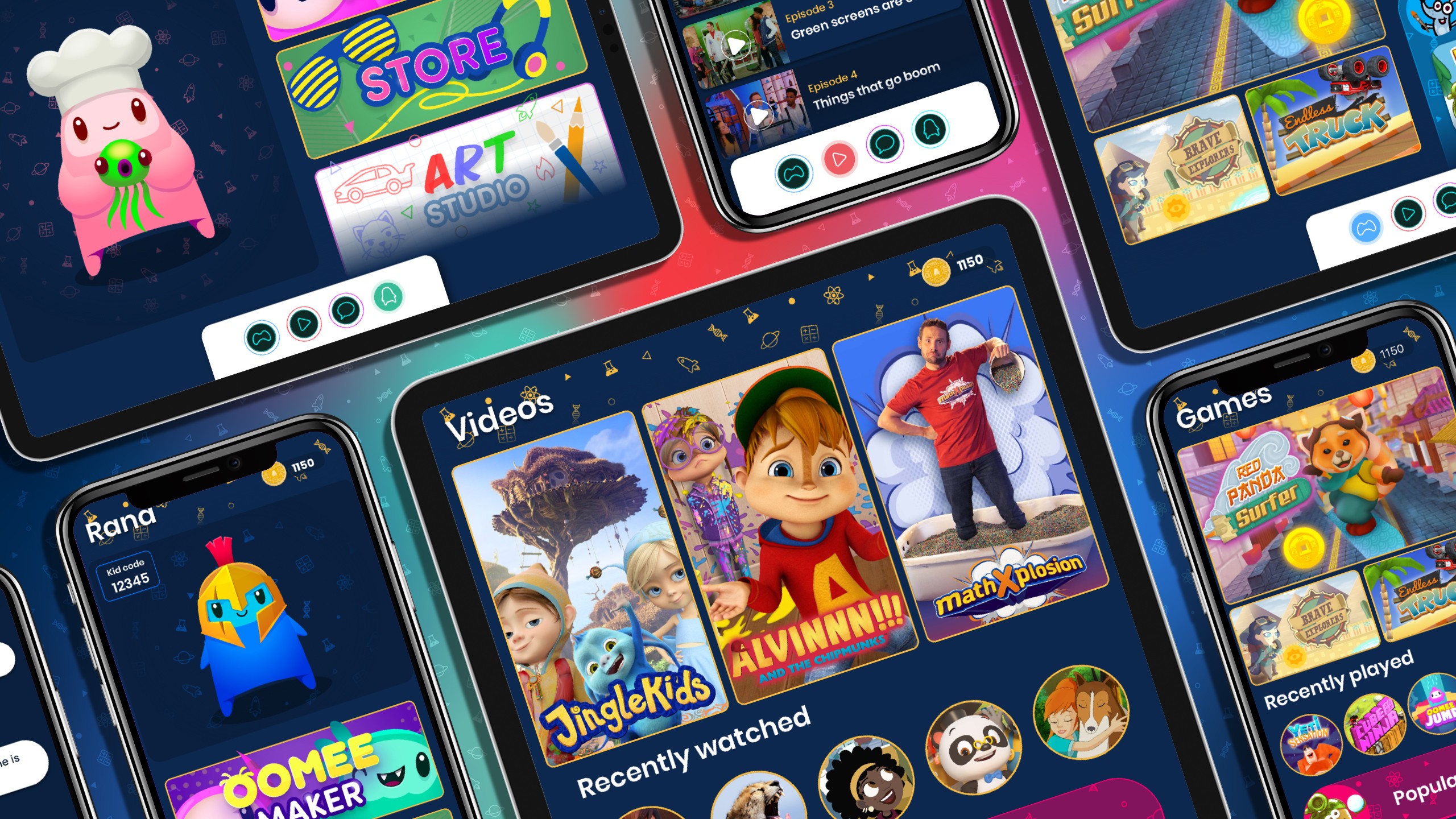 9. Bit Guardian Parental Control
Its helpful features have been ranked the top parenting app in several nations. They have several functions that will assist you in caring for your child. You can, for instance, use this software to disable any app from your kid's smartphone.
A new software restriction feature prevents your youngster from downloading any new apps. The SOS warning is the most significant function since it will notify you if your child is in danger. The application uses an alarm when your child touches it.
DirectTV Stream vs Youtube: which is better in 2022?
10. Baby Nursing/Breastfeeding Tracker
Feeding may appear to be a breeze. Many mothers, though, can speak to the difficulties they endure. Baby Nursing (we can also call it a Baby Breastfeeding process) is a fantastic software for keeping track of your child's feeding times. Can use the app to track how much your baby eats and how much they eat at each mealtime. You may also submit images and keep track of your milestones, baby's height, and physical growth with the app.
Why Does It Matter?
According to a study published in the Journal of Developmental and Behavioral Pediatrics, parents' use of technology is not only depriving households of learning opportunities. Still, it also produces negative relationships, internal disputes, and tension in the house.
Not only are mothers finding it challenging to juggle everything, but cellphones, tablets, and other electronic gadgets are eroding the barriers among office and personal, allowing parents to be "on-call" for work at any time. As a result, too little time is spent engaging with children and too many hours invested using technology.
It's Difficult to Strike a Balance
Mom and dad are trying to balance time with family the willingness to be available when at houses innovation preconceptions like replying to a job and other requirements. Study participants, for example, repeatedly expressed an internal conflict between technology, employment, and family time.
Emotionally, you're a mess.
Furthermore, survey participants claimed that their emotional responses to what they saw on their smartphones led to more common unfavourable reactions from their family members, mainly when the email or text they received had terrible news or included distressing content. According to the study, parents were interested in using tech, their kids displayed more exciting behaviours, which led to them screaming at their children.
In another portion of the study, the researchers noted that families consume junk food with their kids. They found that when youngsters are using mobile devices, they have less vocal and behavioural responses.
It Becomes a Means of Evacuation
However, other people surveyed justified their use of tech, claiming that it enabled them to connect from the outside globe and acted as a necessary recall of existence outside of parents. Many families also said they use software to help them deal with the tedium and monotony of parenting. Overall, parents are predicted to spend three hours or more every day on devices such as mobile phones, smartwatches, and tablets.
Whereas the scientists admit that families don't have to become present to their kids 24/7 and that some alone help youngsters develop independence, they equally point out that parents are overworked and exhausted from being tugged in several ways. In addition, technology has changed how parents engage with their children. Technology, as opposed to newspapers, traditional books, or periodicals, commands a family's concentration and requires an additional emotional engagement.
Wrapping Up
I've provided a list of many Android parenting applications. These apps allow you to manage your child's screen time, communicate with their school, monitor breastfeeding and other health-related activities, and more. My favorite parental control app is Google Family Link. Since March 2020, I've been monitoring and managing my nieces' and nephews' screen usage with the help of the Covid Lockdown app. This program is excellent at what it does.
The top 11 parenting apps for Android are all of those. Share this information with your friends and family if it has been helpful to you. Keep visiting thetechxp frequently for additional information about technology, Android, and iOS.